EASY MIXING
STRONG ADHESION
PREMIUM FINISH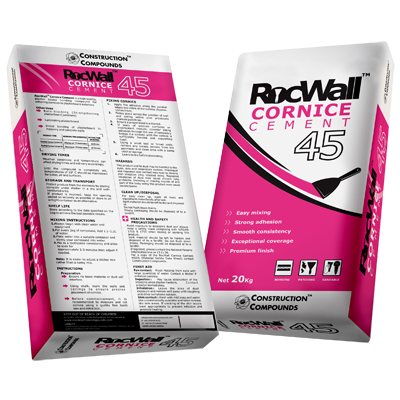 RocWall Cornice Cement is a premium grade plaster-based bonding compound for adhering cornices to plasterboard exteriors. RocWall Cornice Cement is ideal for use with mechanical tools.

RocWall Cornice Cement formulation delivers excellent coverage, superior adhesion and easy workability.  RocWall Cornice Cement makes cornice fixing fast and easy reducing labour cost and putting confidence in cornice fixing.
Available in two formulations for a short or extended setting time.
Application
Along the back length of each cornice edge apply a parallel 10mm wide continuous bead of RocWall Cornice Cement. Position and press the cornice in place, remove excess with broad knife and clean off any remains with a damp sponge.
RocWall Cornice Cement can also be used for:
Back-blocking to strengthen plasterboard junctions.
Laminating plasterboard.
Direct bonding of plasterboard to masonry and concrete walls.
Apply on up to 175 lineal metres per 20kg bag.